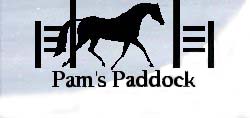 So you want to know a little bit' about our operation?
At Pam's Paddock we offer a variety of services. We will groom, clip, bathe and braid your horse. We also offer lunging and/or riding.

Do you have a weanling or yearling that needs taught to enjoy the basic necessities of a good horse/human relationship? Bring me your baby and he/she will learn to love all aspects of grooming, feet handling, clipping, bathing and loading.

Does your horse have some behavior problems? By using my experience, patience and firm loving training I am capable of overcoming many behavioral issues your equine friend may have.